INMAN, S.C. – September 18, 2023 – This weekend at the Joliet, Illinois, round of the SuperMotocross Finals, Team Honda HRC's CRF450RWE and CRF250R race bikes were wearing special graphics which featured a pattern by camouflage-industry leader TrueTimber. The crossover called attention to American Honda's co-branded marketing campaign with TrueTimber, a partnership that is further highlighted by an "Embrace the Pursuit" Sweepstakes. The grand prize of "Embrace the Pursuit" includes a Honda Pioneer 1000-5 side-by-side– featuring TrueTimber's Atera camo pattern. Additional components of this partnership include Honda products to be offered in TrueTimber patterns, as well as an apparel licensing agreement. Members of TrueTimber's management team were on hand at Chicagoland Speedway to watch the race and support Team Honda.
"This was an exciting addition to our partnership with Honda and it's been great to see all the creative ways we can collaborate between the two brands," said TrueTimber CEO Rusty Sellars. "Our relationship with Honda continues to help us reach new customers and make that connection and passion towards the outdoors even more rewarding."
The pattern featured this weekend on the bikes of riders Jett Lawrence, Chase Sexton and Hunter Lawrence (all of whom have already earned AMA Championships this season), was a modified version of TrueTimber's Viper Urban Camo. Honda coordinated with TrueTimber to add a red tint to the Viper pattern and then worked closely with Team Honda HRC graphics partner Throttle Jockey to place it at key locations on the bikes' radiator shrouds and side panels. In addition, some of the team's usual red Cycra bodywork was replaced with black parts.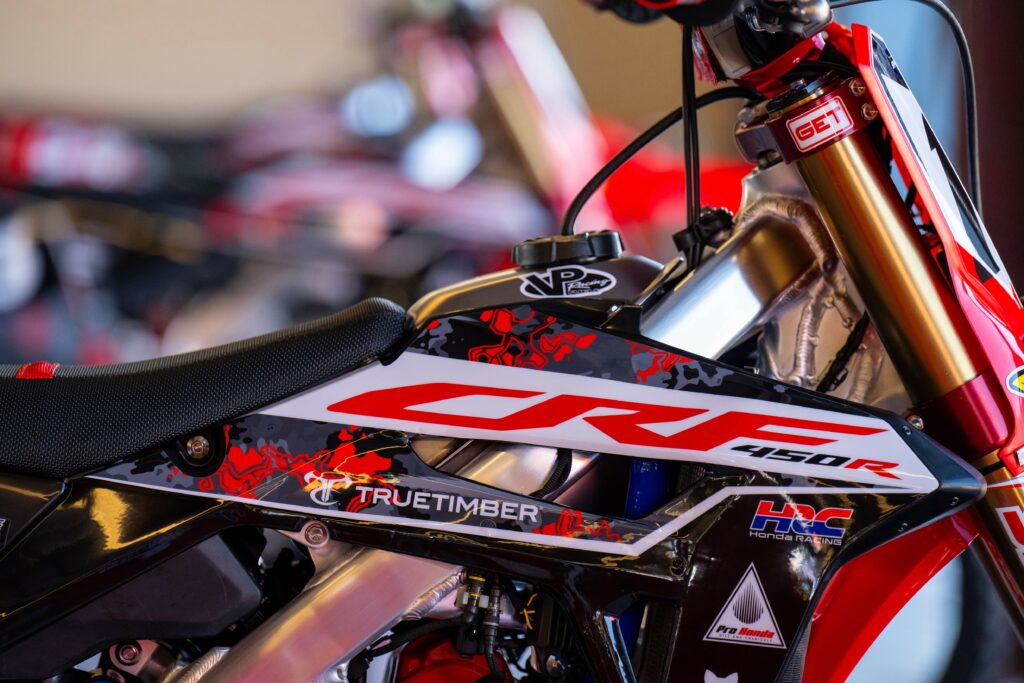 "We continue to be excited about this new partnership with TrueTimber, and it was fun to celebrate it by featuring a modified version of one of the brand's popular camo patterns on our championship-winning CRF Performance bikes," said Jeremy McGuire, American Honda Senior Manager of Customer Engagement. "Thanks to our team partners for helping to come up with this striking look, and congratulations to our riders for putting it at the front of the pack."
To learn more about the entire TrueTimber product line and see all available patterns, visit TrueTimber.com. Details about future product launches can be found on TrueTimber's Facebook and Instagram pages.
About TrueTimber
Founded in 2005, TrueTimber is based in Inman, South Carolina and is the most realistic, performance-driven camouflage brand in the industry. TrueTimber offers a wide array of clothing items and accessories, featuring a variety of distinct camo patterns that perfectly blend with their surroundings. The company spends countless hours researching, testing and seeking new technology to produce the most effective and lifelike camouflage patterns possible. TrueTimber products can be found in retailers across the United States and Canada, and it continues to be one of the fastest-growing camouflage companies in the world. For more information about TrueTimber, visit TrueTimber.com.
About American Honda

American Honda Motor Co., Inc., is the sole distributor of Honda motorcycles, scooters, ATVs and side-by-sides in the United States. American Honda's Power Sports & Products Division conducts the sales, marketing and operational activities for these products through independent authorized Honda retail dealers. For more information on Honda products, go to powersports.honda.com.