INMAN, S.C. – October 25, 2023 – TrueTimber, the world's best-selling camo brand, is proud to announce the all-new Segway Powersports UT10 Crew UTV is available featuring TrueTimber Prairie camo. The introduction of the UT10 Crew in Prairie camo marks an exciting expansion to the partnership between the two brands which began with a Prairie camo option on the Fugleman UT10 in 2021. The highly anticipated UT10 Crew models began arriving at dealers nationwide in early September and are now available for purchase.
"This is a very exciting new product for Segway, and we are thrilled at the opportunity to continue growing our partnership," said TrueTimber CEO Rusty Sellars. "The UT10 is an impressive vehicle delivering both performance and style. Prairie camo is one of our most popular patterns and really looks great on the UT10. We know Segway and TrueTimber fans alike will be excited to put this side by side to work in the field."
The UT10 Crew platform was built from the ground up to deliver class-leading performance, safety, comfort, and technology features to enhance your user experience for work and play. Housing a 1000cc parallel-twin DOHC 4-Stroke engine, this powerplant boasts an impressive 105 horsepower with 70 lb-ft of torque. Equipped with four-wheel hydraulic disc brakes, a 1,000-pound bed capacity, and 2,500-pound standard towing capacity, the UT10 Crew can tackle the most demanding jobs straight off the showroom floor. It comes in two unique trim packages, the S (Standard) and the P (Premium).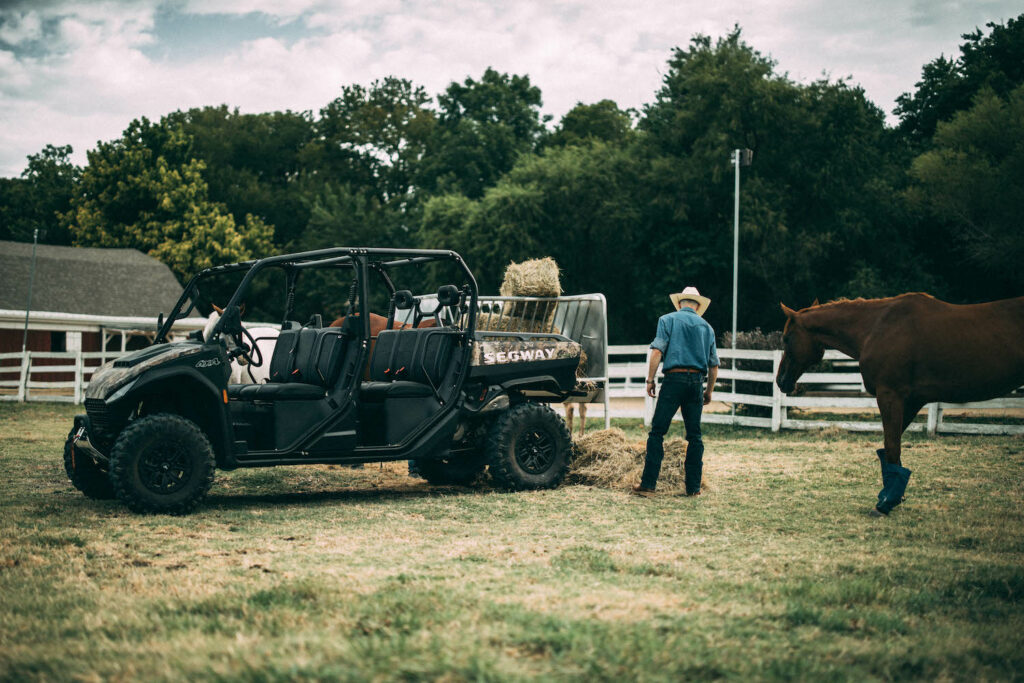 "We're absolutely thrilled to partner with TrueTimber Camo on the much-anticipated Segway UT10 Crew. This collaboration represents an exciting step forward in our mission to provide outdoor enthusiasts with unmatched experiences, and TrueTimber's expertise perfectly complements our vision for this innovative product," said Shane Wilson, Segway Powersports Vice President of Corporate Strategies.
To learn more about the entire TrueTimber product line and see all available patterns, visit TrueTimber.com. Details about future product launches can be found on TrueTimber's Facebook and Instagram pages.
About TrueTimber
Founded in 2005, TrueTimber is based in Inman, South Carolina and is the most realistic, performance-driven camouflage brand in the industry. TrueTimber offers a wide array of clothing items and accessories, featuring a variety of distinct camo patterns that perfectly blend with their surroundings. The company spends countless hours researching, testing and seeking new technology to produce the most effective and lifelike camouflage patterns possible. TrueTimber products can be found in retailers across the United States and Canada, and it continues to be one of the fastest-growing camouflage companies in the world. For more information about TrueTimber, visit TrueTimber.com.
About Segway
Since 2012, Segway-Ninebot has been dedicated to leading the innovation of short-distance transportation and robotics. As a high-tech enterprise integrating R&D, manufacturing, sales, and service, Segway-Ninebot owns over 1,000 basic core patents in global industries, which have been applied to products in multiple areas, including innovative mobility, robotics, and the powersports industry. A subsidiary of the Segway-Ninebot Group, Segway Powersports shares the Segway mission to infuse technology into innovative products that "simplify the movement of people and objects" and adhere to the motto "Fear No Place."