INMAN, S.C. – November 2, 2023 – TrueTimber, the world's best-selling camo brand, has partnered with Canadian owned and operated Moosehead Breweries to unveil new camouflage packaging for one of their largest outdoor lifestyle beer brands, Alpine Lager. This unique collaboration has resulted in Alpine MC2 Blaze Orange cans—a product perfect for the fall outdoor season.
"We're thrilled to partner with Moosehead Breweries on this project and get camo cans into the hands of real hunters," said TrueTimber CEO Rusty Sellars. "We believe the Alpine Lager packaging will generate a lot of excitement for hunters and beer drinkers alike. This design collaboration is a great way for us to celebrate our shared appreciation of the outdoors."
The Alpine Lager camo packaging features TrueTimber's MC2 Blaze Orange—an original TrueTimber camo pattern synonymous across North America with fall hunting and colder temperatures. This new Alpine Lager can design is now available in stores across New Brunswick and Prince Edward Island —just in time for deer season.
"Our Alpine Lager drinkers live for getting outside, and the excitement we've generated through our Alpine Blaze Orange Camo pack this year has been fun and authentic," said Moosehead Breweries VP of Sales and Marketing Trevor Grant. "Our partnership with TrueTimber has given us the opportunity to leverage the world's best-selling camouflage in our packaging and we look forward to collaborating more in the future."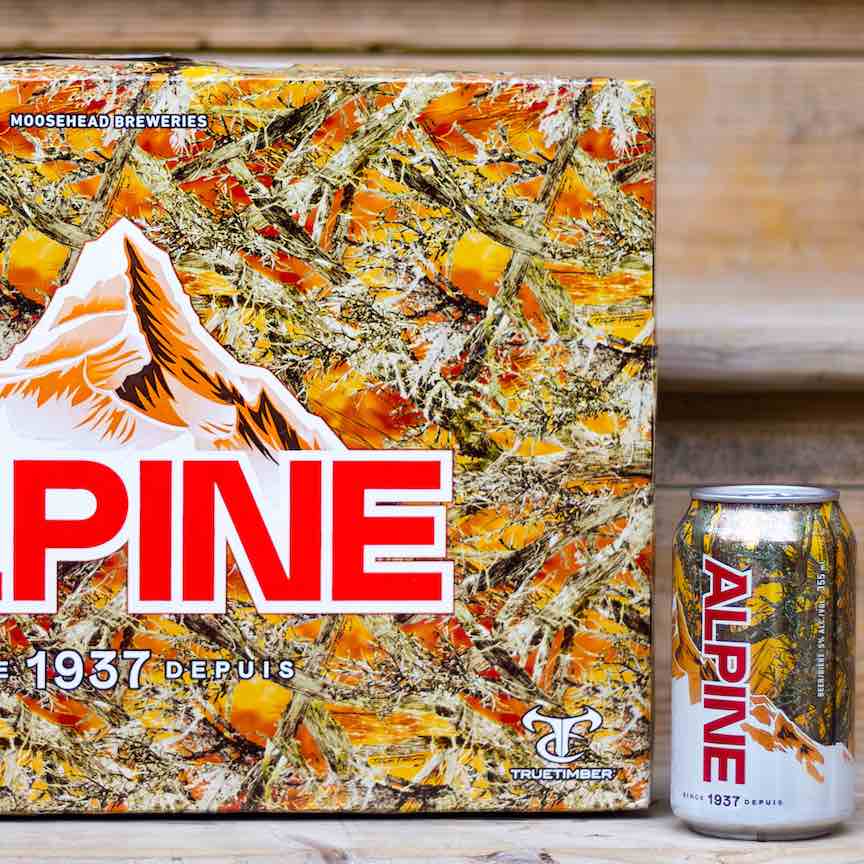 To learn more about the entire TrueTimber product line and see all available patterns, visit TrueTimber.com. Details about future product launches can be found on TrueTimber's Facebook and Instagram pages.
About TrueTimber
Founded in 2005, TrueTimber is based in Inman, South Carolina and is the most realistic, performance-driven camouflage brand in the industry. TrueTimber offers a wide array of clothing items and accessories, featuring a variety of distinct camo patterns that perfectly blend with their surroundings. The company spends countless hours researching, testing and seeking new technology to produce the most effective and lifelike camouflage patterns possible. TrueTimber products can be found in retailers across the United States and Canada, and it continues to be one of the fastest-growing camouflage companies in the world. For more information about TrueTimber, visit TrueTimber.com.
About Moosehead Breweries
Moosehead Breweries Ltd. has been led by the Oland family since 1867, making it the last major brewery in Canada still owned by Canadians. Moosehead's 156 year history is as rich as the flavor of its beer. Moosehead beer is sold throughout Canada, the United States and in 17 other countries across the world. For more information about Moosehead Breweries visit https://moosehead.ca/.