INMAN, S.C. – October 17, 2023 – TrueTimber, the world's best-selling camo brand, is proud to announce a partnership expansion with Elite Archery on the new 2024 Ethos, Kairos and Allure compound bows. All three groundbreaking bows, set to elevate their categories in the sport of archery, are offered in TrueTimber Strata camo. Each bow was designed specifically to increase the accuracy of archers and deliver options that maximize efficiency, regardless of draw length or weight.
"Each of these Elite bows should really stand out within their respective categories and we are thrilled to see Strata camo offered on each one," said TrueTimber CEO Rusty Sellars. "The technology featured on each of these bows is seriously impressive and the added concealment of Strata will make them even more effective in the woods this fall."
With IBO speeds reaching up to 340 feet per second and forgiving adjustability, the Elite Ethos is the epitome of elevated performance with a 33" ATA and 6.75" Brace Height. Featuring the same comfortable grip, S.E.T. Technology as the new V3 performance mods featured on the efficient SP cam system that Elite flagship bows have come to be known for—the Ethos provides the ultimate in versatility for a bow.
Featuring Elite's precision grip, S.E.T. Technology and new V3 smooth mods featured on the efficient SPX cam system, the Elite Kairos provides the ultimate in versatility while also reaching smaller draw lengths – from 24″-29.5″. At 33" ATA and 6.5" Brace Height with smooth mod IBO speed reaching up to 335 FPS (Performance Mods reaching IBO 340 FPS) and forgiving adjustability to customize the set up exactly how a hunter would want – with the Kairos archers get the level of efficiency and accuracy they need in the field.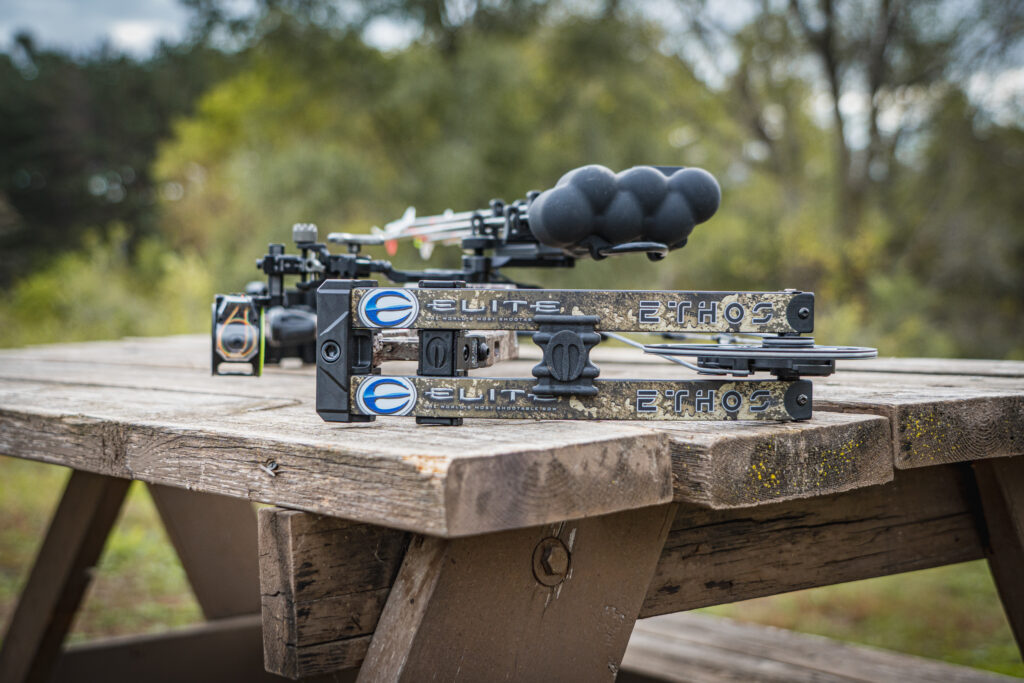 Designed with the serious female bow hunter in mind, the Allure maintains every premium feature that an Elite flagship bow would have – Elite's precision grip, S.E.T. Technology, and new V3 smooth mods featured on the efficient SPX cam system – but offers more flexible draw weights and lengths that fit a smaller frame. With its 31" ATA and 6.25" Brace Height, as well as maintaining an IBO speed of 340 FPS and providing the adjustability to get a custom feel, the Elite Allure is specifically designed to align with the shootability demands of the dedicated hunter with all the precision and accuracy needed for the perfect shot.
"The addition of TrueTimber Strata into our flagship offerings for 2024 brings another level of excitement to our launch of the Ethos, Kairos and Allure," said Elite Archery COO Josh Sidebottom. "The versatility of Strata and the diverse apparel offerings from TrueTimber make this partnership a natural fit for Elite."
To learn more about the entire TrueTimber product line and see all available patterns, visit TrueTimber.com. Details about future product launches can be found on TrueTimber's Facebook and Instagram pages.
About TrueTimber
Founded in 2005, TrueTimber is based in Inman, South Carolina and is the most realistic, performance-driven camouflage brand in the industry. TrueTimber offers a wide array of clothing items and accessories, featuring a variety of distinct camo patterns that perfectly blend with their surroundings. The company spends countless hours researching, testing and seeking new technology to produce the most effective and lifelike camouflage patterns possible. TrueTimber products can be found in retailers across the United States and Canada, and it continues to be one of the fastest-growing camouflage companies in the world. For more information about TrueTimber, visit TrueTimber.com.
About Elite Archery
Established in 2012 and headquartered in West Henrietta, New York, The Outdoor Group is the parent company to the premier brands of Elite Archery, Duel Game Calls, Scott Archery, Custom Bow Equipment, Winner's Choice Custom Bowstrings, Slick Trick Broadheads, Solid Broadheads.